Tokyo Press Check: Making Face, 1986
Letterpress, silk screen, Japanese bound, 36 pages, 7 1/4″ x 9 1/4″, edition 40, Sold Out
Poetry by Ginny Hoyle
We live behind or faces. But still there are the eyes, looming like large uncurtained windows. How well we know that if any stranger waling past can peer in. And so we make our faces into masks. And having memorized the ones of our own land, we are shocked when we discover abroad that we do not even know basic facial vocabulary.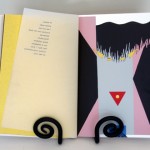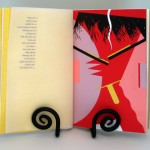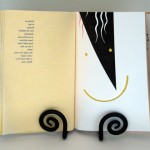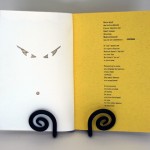 In 1986 I went Tokyo for a press check, to supervise the printing of a large book project. I brought along a single suitcase and a lifetime collection of random impressions about life in Japan. Of course a press check is always stressful But nothing prepared me for the complexity of working in a culture so different from my own. Eleven days later, I returned home. But weeks later, everything I had seen and begun to learn continues to tumble and churn until finally I had to make a book. About a press check. Masks. And my trip to Japan.
This book began a life-long collaboration with writer-poet Ginny Hoyle.