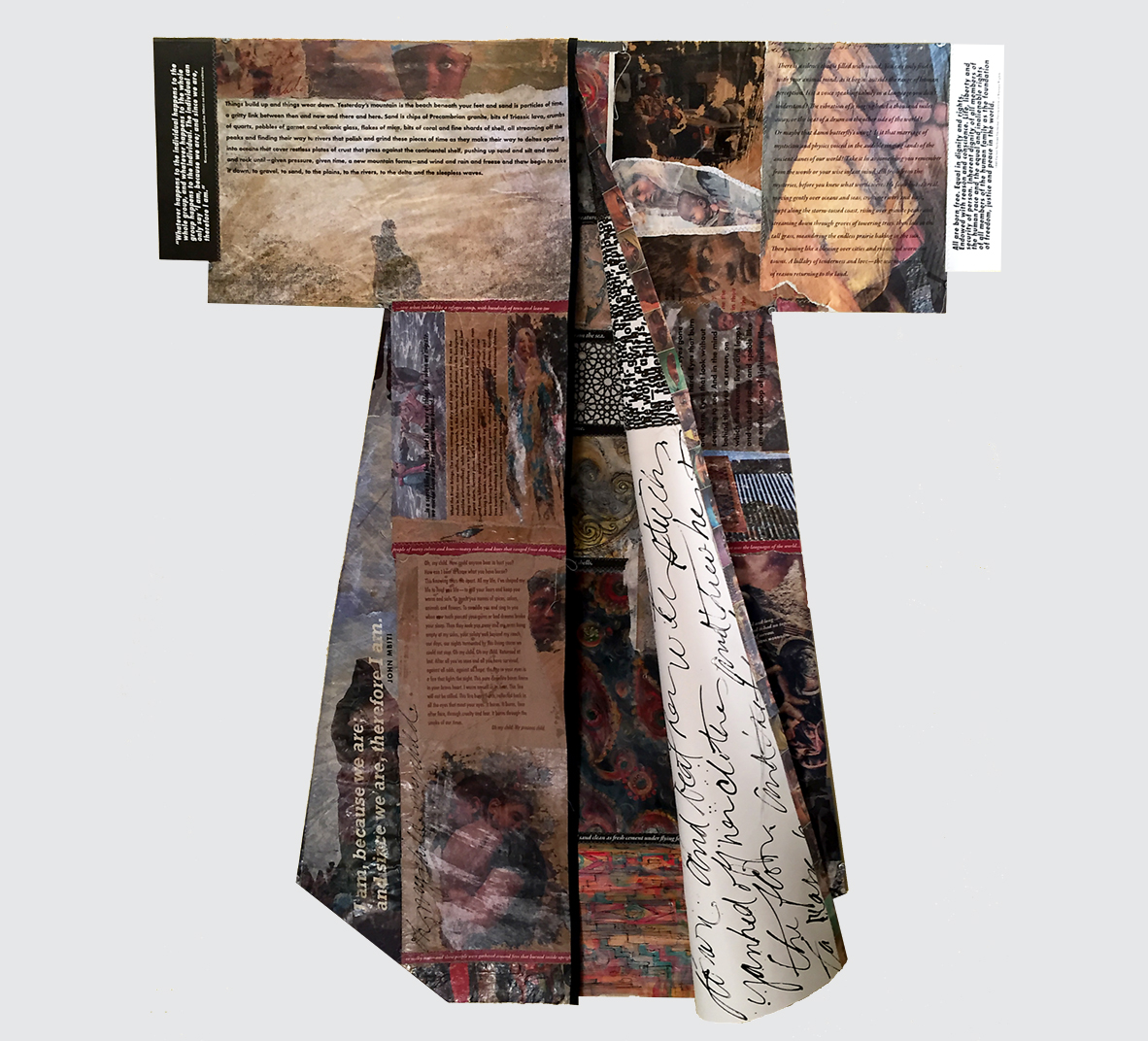 I stand before you a stranger in a land grown strange.
I am collaborating with poet Ginny Hoyle on a body of work that considers the voice of the artist during this challenging time for the country. The approach began to surface in January of 2017, born of a deep sense of foreboding about the values and policies of the Trump administration. As foreboding changed to shock, we needed some way to push back artistically against the expressions of racism, xenophobia, misogyny and environmental piracy that are becoming as common as they are dangerous.
We became interested in the way the peoples of the world have always used clothing as protection, as expression of individuality and as a celebration of cultural heritage. These robes and garments salute the rich traditions, ornamental work and cultural iconography of cultures around the world. Each piece is a collage of images, ink work, newsprint and paint shot through with poems that pay tribute to the histories and the journeys of millions of people who have lost their homes due to drought and famine, war and the whims of xenophobic autocrats around the world. We offer this work as part of a growing conversation about the beauty and importance of diversity in our shrinking world.
In another sense, it is a response to work done in the 19th century by Owen Jones, who sailed the world documenting visual language from each culture, eventually publishing the The Grammar of Ornament in 1868. Long before international travel became easy and relatively affordable, his work gave people a glimpse of the richness of cultures around the world. Worn World is a small homage to his monumental work, created to remind us all of the richness and value of our shared humanity.
The second group of pieces, Hear Me Now, has evolved as a more direct response to the plight of our times. These pieces more directly confront issues of heath care, greed, and misogyny, responses tempered by humor and wit.
More about this project. A sampling of poetry for this project.