Ginny Hoyle is a poet who has collaborated with Judy since 1986 on artist books and installations. These include the 2011 exhibition When We Were Birds; House of Rivers, House of Clay (2009); Walking Through: Meditations on the Ordinary (2006); and their first collaboration in 1986 Tokyo Press Check: Making Face.
As Good As Gone, 2011
He said: I will always be your bullet,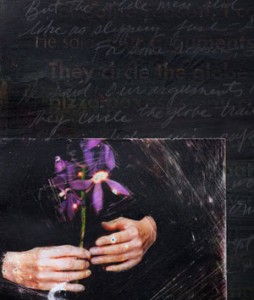 deadly, irresistible, drunk on praise
and no one will come to save you.
The night sky is a vast bloodthirsty field
and Orion, caught with his pants down,
will never have time to draw his sword.
You are falling, fallen,
you're as good as gone.
She said: For a while, I had it made.
I had skeleton keys, maps, the entire broken code.
But the whole mess slid from my pocket
like a slippery fish–same way I lost my phone.
For some reason, I came home.
He said: Our arguments have lives of their own.
They circle the globe trailing space junk:
pizza boxes, sippy cups, mismatched socks and tax forms.
She said: Once I was a woman
who rocked the boat that rocked
our world. Once I was rooted
in the loam of Eden.
I was a woman who swept
and baked and sang.
There was reaping,
there was chopping,
there was soup on the stove.
He said: The more we tried
the more we failed, the more
we talked the less we heard,
the harder we pressed the faster
we flew apart, until the heavens
and the silenced birds
were falling down around us
in the broken dark.
She said: As the whole thing
comes unstuck, what then? What
becomes of all the silent dinners,
accusations, the mundane
soapy details of a lost life?
Was it all just a ball of something
scary moving fast?
He said: You'll be sorry.
You'll be lost. You will live alone
forever with a roof that leaks
and a cat that pees.
Maybe
you will die.
She said: This is what it is, then.
Broken. And I am alone
in the forest without a sandwich or
a torch. Something bewildering is over.
Where can I turn?
He said: Look, your shoulders tremble.
You are hungry, you are weak,
you are small and you are tired.
It's getting dark and growing cold.
See that safe cozy cottage in the clearing?
I am there in a warm bed, waiting.
I have wine.
She said: Don't wait up.
The trail through the forest is faint
in the moonlight but it shows.
I am close by.
I see the light in your window.
I smell the smoke from your fire.
I am armed, yes,
but I'm putting down the knife—
I am done
mincing words.
I am good.
I am going.
I'm as good as gone